Karen Rose Schultz is a Licensed Clinical Social Worker, professional speaker, author and spiritual teacher and healer. Karen maintains a private psychotherapy practice in Hinsdale, Illinois. Her clients know her as a "wounded healer" who can empathize with them based on her own experience with emotional pain and abuse.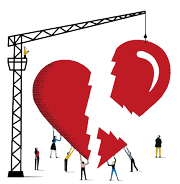 Karen's practice focuses on healing people who are grieving, wounded, depressed, or eating-disordered. She also provides coaching to motivated people seeking to make a positive change in their lives or build self-esteem.
Psychotherapy can be with individuals, couples, or women's groups. Karen offers specialized seminars on self-discovery, spirituality, intuition and growth. Her goal is to empower others to trust their inner resources, to believe in and achieve goals for a happy, healthy life.
Karen shares empowering stories of how she taps into her higher power, deals with powerlessness, humility, and how she depends on her intuition for strength, guidance and love. She believes in miracles, cultivating an open heart and an "attitude of gratitude."
Through speaking, workshops and training others on selected topics, Karen can teach others about the process of going from wounded to wonderful! She motivates and inspires others to overcome obstacles and adversity by developing their inner resource.
Speaking from the Heart and Inner Space Publishing Company were founded and developed by Karen to help others overcome adversity and obstacles that block a healthy self-esteem and self love.
Karen Rose Schultz
, a native of Huntington, New York, attended the State University of New York at Binghamton, graduating with honors in Sociology and Psychology. She then earned a Masters degree from the University of Chicago School of Social Service Administration in 1982, with a concentration in Clinical Social Work and Administration.
She worked at United Charities of Chicago in the inner city and Hartgrove Hospital with in-patient adolescents before going into private practice in 1987. Since then, her business continues to expand with groups, clients, books, tapes and media appearances. Karen teaches community-education courses on Spiritual and Psychic Development and has taught "Intuition and Counseling" at the College of DuPage.